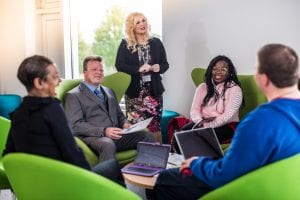 Our careers service provides pre-entry students, current students and graduates of up to three years with information and advice on various aspects of careers and work related learning in a friendly, inclusive, impartial and supportive setting.
As a service we aim to do the following:
Individual's main issues are clarified for them
Options available are known by students and graduates
Relevant professional advice and guidance is received by students and graduates
Users know where to find out about other sources of help
Students develop transferable, professional and specialist skills which meet the needs of the labour market
Students have quality work based and work related learning opportunities where possible
Students and graduates have the ability to make decisions and implement personal and realistic career choices that have been well informed
Progression into employment and further study in individual's desired area
If you would like to speak to someone about Newman's Careers Service please get in touch with Melissa Clarke Melissa.M.Clarke@newman.ac.uk 0121 476 1181 ext 2416.
See also:
Careers Workshops Semester 2 2018
What is a Higher Education Achievement Report?