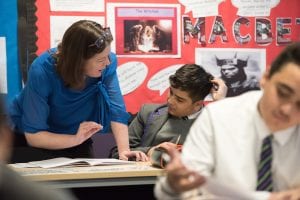 PLEASE NOTE: Applications are currently closed for the Assessment Only route to Qualified Teacher Status (QTS) in the Primary and Secondary age phases.
This route is aimed at experienced graduate teachers who have taught in at least two schools or colleges, as an unqualified teacher for a minimum of 2 years; across the full age and attainment range in which they wish to be assessed.
Schools will be required to agree to fund applicants for this Assessment Only route.
Candidates must pass the Skills Tests in Numeracy and Literacy before they commence the course.
Joint selection and partnership responsibilities
Applicants are required to complete the application form. The school will be invoiced £250 after interview.
Applicants are required to provide the original certificates as evidence that they have achieved the qualifications indicated below:
A standard equivalent to a grade 4 in the GCSE examinations in English and mathematics, and that all who are assessed in settings that include pupils aged 3 – 11 additionally have achieved a standard equivalent to a grade C in the GCSE examinations in a science subject
A degree of a United Kingdom higher education institution or equivalent qualification
Two school references will be required – one of which, should be  from the current school employer.
Newman University will assess the content of qualifications submitted as equivalent to GCSE or to a first degree, and advise applicants regarding equivalency tests or additional programmes prior to taking applications further.
Phase One: Assessment and Interview
Once these initial selection criteria are met, candidates will be required to attend an initial assessment day in their school. During this assessment day you will:
Present evidence that you have Disclosure and Barring Service (DBS) clearance, together with verification that the Prohibition checks have been undertaken
Provide evidence that you can meet the Secretary of State's requirements for health and physical capacity to teach
Present evidence that you have negotiated a timetable to demonstrate that the Teachers' Standards will be assessed in two consecutive age ranges
Present evidence that you will have taught in at least two schools or colleges for a minimum of two years as an unqualified teacher and that the two schools will support this application
Be observed teaching in the classroom (joint observation)
Attend a joint interview, designed to assess your suitability to teach and appropriate subject knowledge
Provide evidence that you have passed the professional Skills Tests
Provide original copies of certificates (degree and GCSE maths, English and science) unless submitted with the initial application.
If points 1, 2 and 7 are not completed at interview stage, these will become conditions of entry onto the course.
Successful applicants will have demonstrated their potential ability to evidence and meet  all the Standards for QTS without the need for any further training.
A copy of the Partnership Agreement will be signed by the Employing school and Newman University. A final assessment date will be negotiated.
Candidates will be provided with guidance for the completion of a portfolio of evidence against the standards. A tutor from Newman University and a school-based tutor will be identified to complete the process.
Formal registration with the NCTL will take place once all the conditions have been met and candidates have been enrolled. The fee for completion of Phase Two Assessment will be invoiced to the school at this point (£2,250). Information on applicants' origins, destinations, start and end dates, subject and classification of first degree, and assessment phase and subject will be collected for NCTL purposes.
Phase Two: Assessment and Quality Assurance
During the course there will be three visits by the tutor to the trainee.  The first visit will be an interview and, if successful, we will proceed to visits two and three during the three month assessment period.
Visit Two:
a. An observation (a different key age/stage than in the interview)
b. Review of the Professional Needs Analysis against the standards and subject knowledge.
Visit Three:
This is the Final Assessment. It will include:-
a. An examination and assessment of the evidence portfolio, collected against the Teachers' Standards.
b. An analysis of Transition Point One of the Career Entry and Development Profile.
How to Apply
We offer 3 start dates to the Assessment Only route: September, January and Easter
The application form and guidance for the Assessment Only Route can be found below.
Newman will scrutinise your application and references. A decision about your progress to Phase One of the Assessment process will be made.
Please note that the fee for this pre-assessment stage is non-refundable.
Phase One Fee (non-refundable)
Newman will invoice school after interview
  £250
Phase Two Assessment Fee
Newman will invoice school after enrolment
£2,250
Total
£2,500
*Fees are payable to Newman University
For further information please contact Admissions (admissions@newman.ac.uk) or 0121 476 1181 ext 2386.