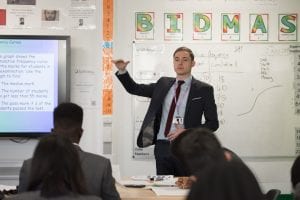 The Interview Process
Teacher training courses at Newman are competitive with nearly all courses substantially oversubscribed. If you are invited to attend an interview for a teacher training course, your interviewers will be looking for you to demonstrate a number of qualities expected of an ITE student at interview, including:
Your passion to become an outstanding teacher;
Evidence of recent and relevant work or voluntary experience in British schools, which allows you to demonstrate your understanding of the role of the teacher both inside and outside the classroom;
An awareness of developments in education and in the National Curriculum, and within your individual subject area;
An ability to speak confidently and communicate effectively with individuals and groups;
A commitment to ensuring that children achieve their full potential, and an ability to build supportive, trusting, respectful relationships with them and evidence of how you have
Newman University uses a number of methods to assess these qualities in students being interviewed. The interview day is made up of 3 main components:
English and mathematics diagnostic tests
Working with a small group of other candidates
Formal interview
English and Mathematics Tests
For the mathematics test, you will be given 20 minutes to answer 15 questions, using a range of basic mathematical skills, calculations and concepts that are applied within the classroom. Take the time to practice your skills.
PGCE Secondary Mathematics candidates will be asked to complete a 45-minute test comprised of three tasks involving calculations, teaching a particular topic and problem-solving skills.
For the English test, you will be asked to identify and correct a number of errors (spelling, punctuation and grammar), and will also complete a short written task within a 25-minute time slot.
Micro-Teaching Session (PGCE only)
This task is about you and your communication skills, and being able to think 'on your feet', although preparation is important you will not be given any materials prior to the activity. The session should last no longer than 5 minutes and you will be addressing at a group of fellow applicants rather than children.
The interviewers will be looking for you to include:
a brief introduction;
a main body, making good use of the time available and engaging the audience;
and a definitive ending summarising the learning
All PGCE Secondary applicants (except PGCE Secondary PE) will be required to undertake a group task. This is designed to show the interviewers that you can work collaboratively with other professionals.
The Interview
The interviewer will use your personal statement as a starting point, and will want to find out about you as a person – your interests, enthusiasms, personality, experiences and skills. You will be asked a series of questions related to you and your school experience.
If you have applied for an undergraduate primary or PGCE Primary course, you will be expected to read an extract from a children's book provided during the interview and to discuss some suggested activities, appropriate to the age range chosen.
Applications for PGCE Secondary PE
If you have applied for a PGCE Secondary PE course, your interview day will also incorporate a one hour practical test, observed by PE tutors.