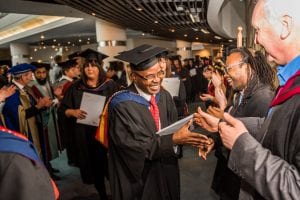 Alumni
So what happens after graduation? Your relationship with Newman University doesn't end when you finish your studies. All graduates of the University are welcome to become members of our free Alumni Association. To join please visit our Alumni page.
What does 'Alumni' mean? 'Alumni' is the Latin plural term for a former student of a school, college or university ('alumnus' being the singular).
What are the benefits? As a Newman University graduate, you will have access to a range of services including ongoing careers advice and support to aid your career development. You will also receive further discounts on campus services, invitations to events, as well as news and updates from the University, including the latest developments about our 50th anniversary celebrations in 2018.  Our Alumni Association is also a great way to keep in touch with the friends you have made during your time at the University and to network with like-minded professionals.
How do I stay connected? To keep up to date just visit our Alumni web page. You can also join our social networking sites on Facebook, Twitter and LinkedIn.
For further information about Newman's alumni association, contact alumni@newman.ac.uk
Careers Services
Graduates can access the careers service for up to three years after completion of their course. The service offers:
One-to-one guidance sessions (day time, evening and weekend slots available)
Graduate job search and a regularly updated vacancy database
Guidance with applications, CV writing and interview skills
Post Graduate study
And much more …
For more information, please contact Melissa Clarke at melissa.m.clarke@newman.ac.uk or on 0121 476 1181 extension 2416.
Graduates may be able to access careers guidance from a local university in their area, if they are returning home, due to reciprocal agreements with other institutions. Please check with your local university for more information.
Research and Higher Degrees
Did you know that Newman University offers an impressive range of research opportunities and Higher degrees?
Currently on offer:
The University has a strong research culture and offers opportunities for research at Postgraduate level.  Scholarly work is being undertaken across a wide range of academic and professional disciplines and is attracting external funding from many sources.  Research links with other colleges and universities, at home and abroad, have been established in a number of areas.
Research Students work towards the award of MPhil or PhD.  Current areas for full-time and part-time postgraduate research include; Education, English, History, Physical Education & Sports Studies, Psychology, and Theology.  Newman is in strategic alliance with Liverpool Hope University, who validate and award the degrees of PhD, MPhil, and EdD
For further details contact the admissions team at admissions@newman.ac.uk.