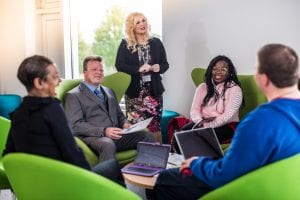 Preparing for student life
HEADstart is a full time, three week preparatory course for new single, joint and combined honours students. The course is delivered in the three weeks before Welcome Week.
For 2018, HEADstart begins on Thursday 30 August culminating on Friday 14 September 2018. Students are taught during sessions available online and on campus.
The course has been designed to help you think about what you want from your studies whilst developing the skills needed to study effectively and successfully during your time at Newman. Students attending HEADstart frequently agree that engaging in the course helps to build their confidence, lasting friendships and ultimately get ahead with their university studies.
The exact timetable for the course will be given to participants on the first day. Week one begins with a full day seminar where you will be introduced to the course and fellow students, finishing around 3pm. During the following weeks, you will participate in on-campus activities and complete online activities on our Virtual Learning Environment. Though you may not be on campus every day, expect to be involved in course activities throughout the three weeks. The course culminates with an opportunity to practice your academic skills and once you have completed HEADstart, you will be ready to start your degree!
To register for the course, you must have confirmed Newman as either your first choice or insurance with UCAS. Please click here to continue to reserve a place on HEADstart.  
Registration closes Tuesday 28 August 2018.
Can't make it to HEADstart? Please do let us know if you decide not to attend so that we can offer your place to other students wishing to take part.
For more information, please contact:
Jacqui Ridge-Stearn
Academic Development Tutor
Email: HEADstart@newman.ac.uk
Click here to like us on Facebook
  Example HEADstart Timetable
Last updated: 20 June 2017