Former Newman student returns to school to inspire students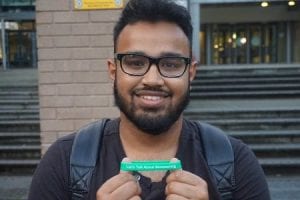 Abed Ahmed, from Lozells in Birmingham, has recently featured on BBC Three's Amazing Humans series because of his inspiring efforts to help young people who suffer with a stammer.
Abed, a Newman University graduate, gained a degree in Sport and Education Studies before undertaking his PGCE to become a qualified teacher. Abed, now 24, works at the very secondary school in which he studied some years ago; Holte School. Drawing on his own experiences and struggles growing up with a stammer, Abed has set up a stammer support group at the school to help young people overcome the fear of living with a stammer.
From the age of 4, Abed struggled to speak and say his first name and even to this day he finds it difficult to introduce himself to people.
Abed experienced a number of obstacles throughout his education which stemmed from his stammer, he explains:
"I had to overcome my stammer and the anxiety that came with it. I had to present in a lot of my modules at university and Newman helped me with this. The support I received at Newman was immense. The fact that we were allowed to knock on our tutor's door at any time was the best thing about Newman.
"Also, I received support regarding my stammer, I was always given extra time and lecturers even allowed me to present to just them which helped me immensely."
Abed excelled in his degree and achieved a 2:1 classification before moving on to study his PGCE. He explains his proudest achievement was always achieving at least a 2:1, and in some cases achieving a first class mark, in all of his oral presentations, despite his stammer.
Abed is now a maths teacher at Holte School in Birmingham and is extremely enjoying his job. In his spare time at the school he also supports pupils with stammers by setting up a stammer support group.
He shared a video of the support group on YouTube to inspire others on International Stammering Awareness day and his story has grown in popularity from there.
His inspirational ways have attracted the attention of the national media with BBC Three declaring Abed one of their 'Amazing Humans', he also featured on BBC's Breakfast show in December and many other newspapers including The Mirror have featured his story.
His goal for the future is to become the Headteacher of Holte School and be someone who can motivate all people with stammers. Abed is clearly on his way to achieving his goal.
You can read more about Abed's ideas and thoughts on stammering on his twitter page @stammer_teacher